Today we pray that you may know the God who laid it all down to restore a broken relationship with frail humanity.  We are here in Bloemfontein, Free State, South Africa (the birthplace of J R R Tolkien for  the Lord of the Rings fans among you).  We will be shortly releasing a series of pictures blogs in the days to come but please enjoy this very short installment and remember what Christmas is really all about!  God became a son of Mankind so that mankind could again become children of God!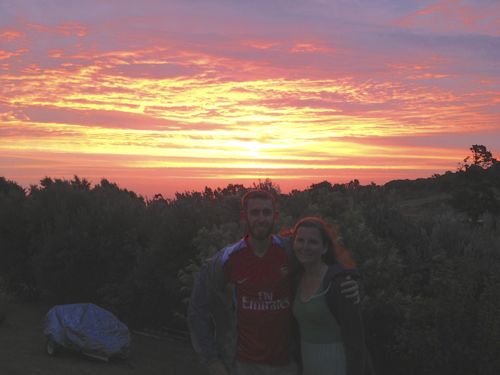 Michael and Allison Sherwin….fellow travelers with us on this journey and fellow Austinites and Hope Chapelites, who just joined us in South Africa about 7 weeks ago!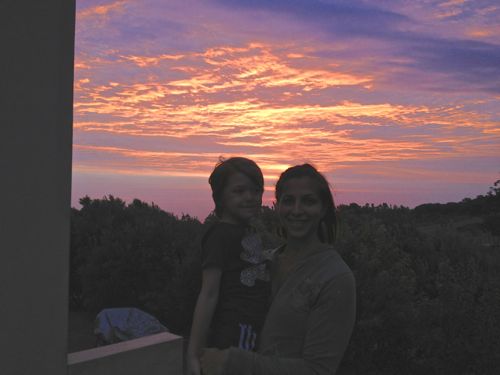 Noah and Ceci with a brilliantly beautiful sunset behind them (lots of those here for some reason!)
Ceci and Mark with the same sunset as a backdrop. This was in Port Elizabeth, South Africa.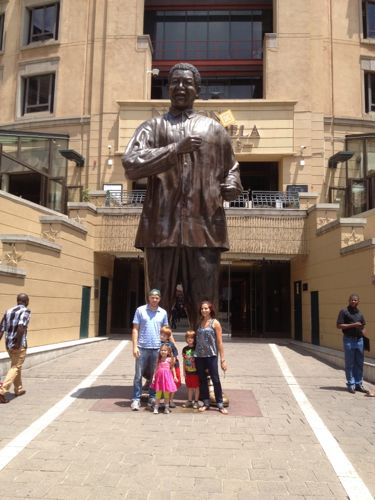 here is a very short video!
[youtube=http://www.youtube.com/watch?v=AGTpuiG4aV8]
The family in front of a Nelson Mandela statue in Johannesburg, South Africa.
I will leave you with a quote from Oswald Chambers that my mother posted on Facebook this week:
"
"The tremendous revelation of Christianity is not the Fatherhood of God, but the Babyhood of God – God became the weakest thing in His own creation, and in flesh and blood He levered it back to where it was intended to be. No one helped Him; it was done absolutely by God manifest in human flesh. God has undertaken not only to repair the damage, but in Jesus Christ the human race is put in a better condition than when it was originally designed."
"Beware of posing as a profound person; God became a Baby."
– Oswald Chambers